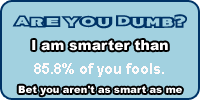 This weekend has been long and lazy. I like it like that. :)
I had Friday off work, so we slept in and then went to a matinee of Live Free or Die Hard. Which rocked. If you're looking for an action movie, I can whole heartedly recommend this one. Then we came home, relaxed and caught up on some TV we'd recorded. We also, finally, started data entry on doing a proper index of Brian's comic collection. 100+ down, thousands to go! And I started a new cross-stitch project. It's a Christmas present, so I won't be showing photos anytime soon.
Yesterday (Saturday) I drove up to Connecticut for a slot zero for a convention in two weeks that I'll be running at. It was a fun mod, and one line just made it all worth while. You want us to ask the Baron for
WHAT????
Today is Canada Day, and we've celebrated by just relaxing together. It's really ironic that today (Canada Day) is the first day we can submit for our American greencards. Since it's a Sunday, we have to wait until tomorrow. I've been working on stitching again since I had no ill effects on my hand from Fridays attempt, and I'm getting massive progress on Fantasy Triptych. This I'll have to photograph and show everyone, I've gotten a huge section done on it! We mostly watched Babylon 5 since we're trying to run through it before the new movie comes out at the end of this month. Wohoo! And I'm busy rereading the Harry Potter books before the final one comes out in three weeks. I'm about a third of the way through the fifth book (Order of the Phoenix) since Thursday, so I'm doing fine on that.
Next up: Brian's bbq'ing steak for dinner, and I'll be watching the French Grand Prix (and probably stitching some more...)